Dairy products | Beverages| Water | Oils
We offer a wide range of extrusion-blow moulding machines to cover all your needs for manufacturing HDPE or PET bottles.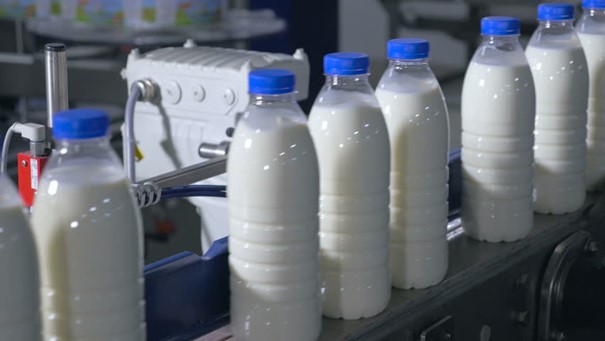 DAIRY PRODUCTS (milk, yoghurt drink bottles)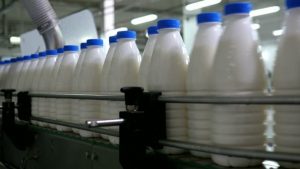 The dairy industry is a very sensitive sector and we are fully familiar with its environment.
Since 1989, we have installed bottle manufacturing and bottling units for large French groups such as CANDIA, DANONE, YOPLAIT, etc.
The requirements of dairy producers are very strict and our extensive experience enables us to deliver effective solutions at low cost.
Our bottle manufacturing units generally feature SIDEL DSL type rotary machines (HDPE).
These extrusion blow-moulding machines of worldwide renown are used widely in the dairy industry, where good bottle quality with low production costs is required.
Our refurbished SIDEL extrusion blow-moulding machines are very attractive on export markets for the following benefits:
Robust and easy to use
Easy and low-cost maintenance
Electromechanical relay cabinet (rapid troubleshooting)
No PLC (machine can be equipped if necessary)
Minimal electronics (just 2 speed controllers)
MULTI-LAYER BOTTLE PRODUCTION
Benefits of co-extrusion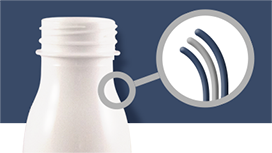 Longer product conservation period (milk, yoghurt)
UV ray barrier layer
Preserves nutritional qualities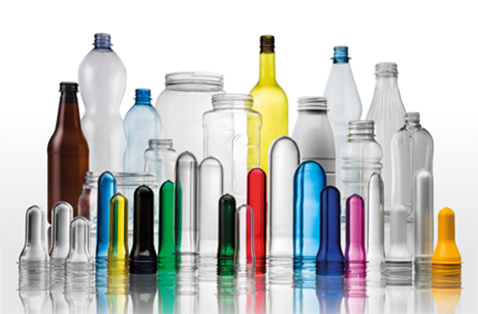 Manufacturing bottles for beverages, water, and oils requires a material called polyethylene terephthalate (PET).
PET offers multiple benefits:
Transparent and shiny
Good mechanical strength combined with light weight
Excellent dimensional precision of neck
No waste (nozzle cores)
Recyclable.
MANUFACTURING PROCESS
FOR A PET BOTTLE (COLD CYCLE)
Using PET preforms bought from a manufacturer or produced on your own presses, preforms are automatically inserted into a PET blow-moulding machine and go through the following cycle:
1. Preforms on a conveyor pass near the furnaces to be heated (note: necks are not heated).
2. The preforms are inserted into moulds using mechanical clamping units.
3. The preforms are blown and stretched against the mould to obtain the finished bottles.
4. The moulds are opened and the PET bottles removed.

MANUFACTURING PROCESS FOR A PET BOTTLE
(HOT CYCLE)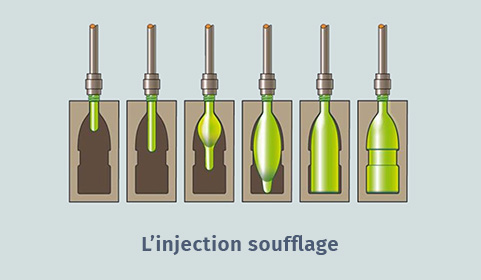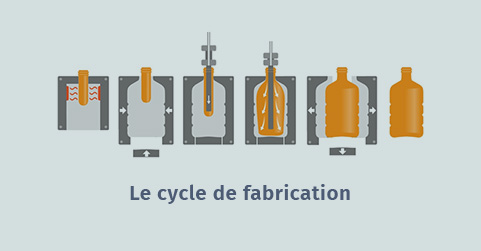 Another technology is available to manufacture PET bottles, namely injection blow moulding.
The major benefit of (hot cycle) injection blow moulding in relation to the cold cycle is that production is fully autonomous. The preforms are made and blown on the same machine.
Production takes place in two distinct phases:
The first phase is injection. This phase consists in inserting the plastic preform in an injection mould.
The second phase is blowing. This phase consists in blowing and stretching the preform against the mould. This method is mainly reserved for thermoplastics.
Manufacturing cycle in detail:
1. Preform injection
2. The hot preform (120 – 200 °C) is transferred to a blow mould
3. Stretching: compressed air is injected through the core carrying the preform
4. The product is de-moulded and transferred on its core to the ejection station
5. The finished articles are ejected with no waste.
I'd like more information